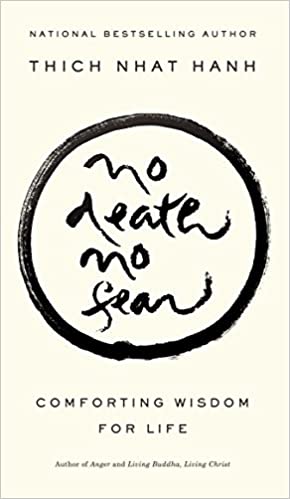 No Death, No Fear
Comforting Wisdom for Life
With hard-won wisdom and refreshing insight, Thich Nhat Hanh confronts a subject that has been contemplated by Buddhist monks and nuns for twenty-five-hundred years— and a question that has been... Read More
In stock
Free U.S. shipping on orders above $30.
With hard-won wisdom and refreshing insight, Thich Nhat Hanh confronts a subject that has been contemplated by Buddhist monks and nuns for twenty-five-hundred years— and a question that has been pondered by almost anyone who has ever lived: What is death?
In No Death, No Fear, the acclaimed teacher and poet examines our concepts of death, fear, and the very nature of existence. Through Zen parables, guided meditations, and personal stories, he explodes traditional myths of how we live and die. Thich Nhat Hanh shows us a way to live a life unfettered by fear.
"[Thich Nhat Hanh] shows us the connection between personal, inner peace and peace on earth." –His Holiness The Dalai Lama
Nominated by Martin Luther King, Jr. for a Nobel Peace Prize, Thich Nhat Hanh is one of today's leading sources of wisdom, peace, compassion and comfort.
Additional information
Additional information
| | |
| --- | --- |
| Weight | 0.38 lbs |
| Dimensions | 8.000 × 4.500 × 0.500 in |
| Pages | 208 |
| Format | Paperback |
| Publisher | Riverhead Books |
| ISBN | 9781573223331 |