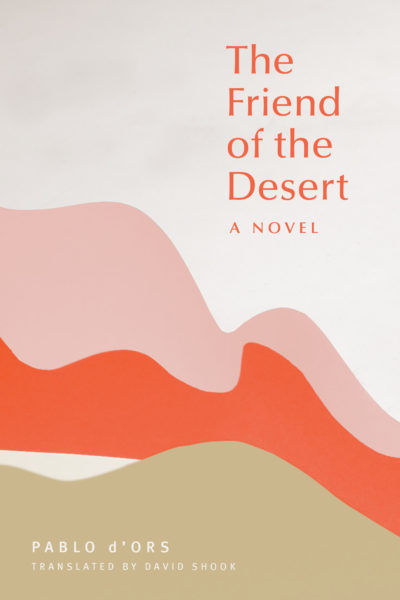 The Friend of the Desert
A Novel
Existential and curiously hypnotic, Pablo d'Ors evokes the sharp stylized prose of Bolaño, Bernhard, and DeLillo in this strange tale of one man's repeated forays into the desert, and the... Read More
Free U.S. shipping on orders above $30.
Existential and curiously hypnotic, Pablo d'Ors evokes the sharp stylized prose of Bolaño, Bernhard, and DeLillo in this strange tale of one man's repeated forays into the desert, and the ultimate silence it contains.
"Thanks to the back cover of a book I knew that there lived in Brno a man who had dedicated a good portion of his life to traveling through many of the world's deserts." So begins Pavel's story, as a series of mysterious circumstances lead him to change the course of his life. On his repeated trips to the Sahara, first as part of an enigmatic organization called Friends of the Desert and later on his own, Pavel explores the drifting sands, and, ultimately, something approaching infinity. Nothing is as it seems. As the unknowns increase, each encounter presents a new mirror for Pavel's own expanding consciousness.
Innumerable artists, thinkers, and mystics have paid their respects to the void. With refinement and care, Friend of the Desert inserts itself to that tradition. In the wake of Hesse's famous Siddhartha, Bolaño's By Night in Chile, and Don DeLillo's The Names, Pablo d'Ors approaches the depths and casually settles in. Friend of the Desert is a rare gift for seekers of the absolute.
Additional information
Additional information
| | |
| --- | --- |
| Weight | N/A |
| Dimensions | N/A |
| Format | Paperback, eBook |
| Pages | 136 |
| Trim Size | 5" x 7.5" |
| ISBN | 9781946764492 |
| ISBN | 9781946764508 |
"A wonderfully written, entertaining and enlightening tale of 'spiritual adventure'. If his other fiction (not yet translated into English) is at this level it is surprising that d'Ors is not better known. Highly recommended!"

Paul Richard Mc Mahon
"Enjoyable read for spiritual seekers."

John Mallon