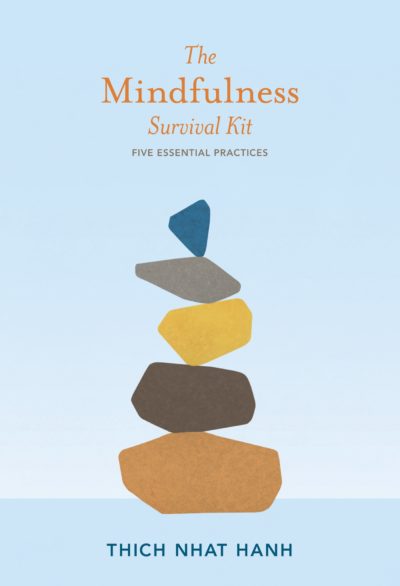 The Mindfulness Survival Kit
Five Essential Practices
The Five Mindfulness Trainings (also referred to as "Precepts")—not to kill, steal, commit adultery, lie, or take intoxicants—are the basic statement of ethics and morality in Buddhism. In The Mindfulness... Read More
Free U.S. shipping on orders above $30.
The Five Mindfulness Trainings (also referred to as "Precepts")—not to kill, steal, commit adultery, lie, or take intoxicants—are the basic statement of ethics and morality in Buddhism.
In The Mindfulness Survival Kit Zen Master and peace activist Thich Nhat Hanh argues eloquently for their applicability in our daily lives and on a global scale. Nhat Hanh discusses the value and meaning of each precept, offering insights into the role that it could play in our changing society.
Thich Nhat Hanh calls the trainings a "diet for a mindful society." With this book he offers a Buddhist contribution to the current thinking on how we can come together to define secular, moral guidelines that will allow us to explore and sustain a sane, compassionate, and healthy way of living.
The Five Mindfulness Trainings offer a path to restoring meaning and value in our world, whether called virtues, ethics, moral conduct, or precepts they are guidelines for living without bringing harm to others.
In June 2022, the Five Mindfulness Trainings were updated. You can read the updated trainings on the Plum Village website.
Previously published as For A Future to Be Possible.
Additional information
Additional information
| | |
| --- | --- |
| Weight | N/A |
| Dimensions | N/A |
| Format | Paperback, eBook |
| Pages | 160 |
| Trim Size | 4.5" x 6.5" |
| ISBN | 9781937006341 |
| ISBN | 9781937006600 |
"If I had to take one book of Thich Nhat Hanh to a deserted island this would be the one."

Kobi
"This is a nice book to keep beside your bed for little reminder readings before you go to sleep."

K Quetin
"The depth of love and understanding are incredible"

Joseph H Durando III
"One of the most practical, inspired, and accessible spiritual manuals I can think of."

Philippe Roussel
Show more quotes