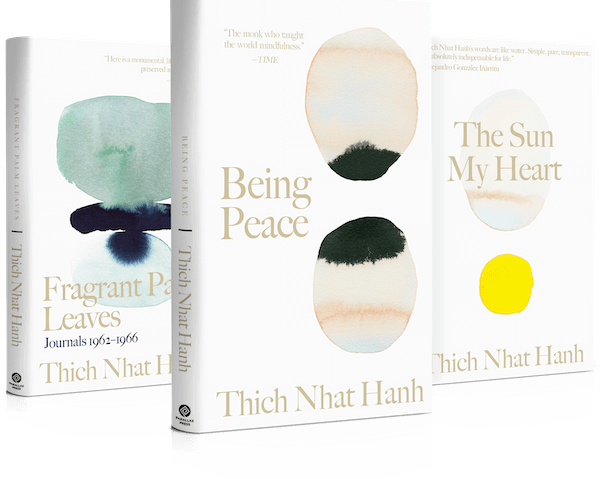 Thich Nhat Hanh Foundational Books Bundle
Introducing the all-new Thich Nhat Hanh Hardcover Foundational books. These are the absolute essential and beloved books from one of the most revered and influential spiritual teachers in the world... Read More
Free U.S. shipping on orders above $30.
Introducing the all-new Thich Nhat Hanh Hardcover Foundational books. These are the absolute essential and beloved books from one of the most revered and influential spiritual teachers in the world today.
With new forewords written by Dr. Jane Goodall, Christiana Figueres, and H. H. the Dalai Lama. All three Thich Nhat Hanh Foundational books are available as a special bundle for $49.
Being Peace
A timeless introduction to Thich Nhat Hanh's most important teachings, Being Peace reveals the connection between peace in oneself and peace in the world.
Intended for peace activists and as a commentary on the peace movement of the time, the book became a sensation, and continues to be an indispensable guide along the path more than thirty years later, translated into more than thirty languages and with half a million copies sold in the U.S. alone. With a new foreword by Dr. Jane Goodall.
The Sun My Heart
The sequel to The Miracle of Mindfulness, The Sun My Heart contains the journey from mindfulness to insight. Using the objects and events of everyday life—the gradual settling of the pulp in a glass of apple juice or the wind blowing into the room and scattering papers about—The Sun My Heart "prefers to be a friend rather than a book.
You can take it with you on the bus or subway as you do your coat or your scarf. It can give you small moments of joy at any time." With a new foreword by Christiana Figueres.
Fragrant Palm Leaves
Regarded as Thich Nhat Hanh's most personal and endearing book, these collected journals chronicle the first-hand experiences of the Zen Master as a student and teaching assistant at Princeton and Columbia Universities, who returns to Vietnam in 1964, and helps establish the movement known as Engaged Buddhism.
A rare window into the early life of a spiritual icon, Fragrant Palm Leaves now includes a new foreword written by H.H. the Dalai Lama.
---
 Praise for Thich Nhat Hanh and the Hardcover Foundational Books

"The monk who taught the world mindfulness."—TIME
"Thich Nhat Hanh shows us the connection between personal inner peace and peace on earth."—His Holiness the Dalai Lama
"Thich Nhat Hanh is a holy man, for he is humble and devout. He is a scholar of immense intellectual capacity. His ideas for peace, if applied, would build a monument to ecumenism, to world brotherhood, to humanity."—Dr. Martin Luther King, Jr.
"Thich Nhat Hanh's work, on and off the page, has proven to be the antidote to our modern pain and sorrows. Here is a monumental, life-giving mind, preserved as textual force. And that's what I feel reading and practicing his teachings: that I am being acted on by a compassion equal to and pervasive as gravity itself. His books help me be more human, more me than I was before."—Ocean Vuong, author of On Earth We're Briefly Gorgeous 
"Thich Nhat Hanh is a great teacher. I have studied him, his work, his passage through life, with gratitude and joy. Through his writings, his public offerings, his insights, I've gained vision and clarity; I've often felt it would be impossible to find a more lucid, determined, and courageous soul."—Alice Walker, author of The Color Purple 
"Thich Nhat Hanh does not merely teach peace; Thich Nhat Hanh is peace."—Elizabeth Gilbert, author of Eat, Pray, Love
"Thich Nhat Hanh's words are like water. Simple, pure, transparent, and absolutely indispensable for life."—Alejandro Iñárritu, director of Birdman and The Revenant
"One of the sweetest and most personally revealing of Thich Nhat Hanh's books, it shows the planting of his seeds of remarkable wisdom."—Jack Kornfield, author of A Path With Heart 
Additional information
Additional information
| | |
| --- | --- |
| Weight | 2.13 lbs |
| Dimensions | 8.250 × 5.250 × 1.75 in |