Alessandra Pigni
Alessandra Pigni (1974-2018) was a psychologist and organizational consultant who supported individuals working in the humanitarian and development sector.
As a psychologist with Médecins Sans Frontières / Doctors Without Borders (MSF) she worked extensively in the Middle East and in China. She had been based in Jerusalem providing mindfulness-based staff care and organizational development interventions, and worked with activists and women human rights' defenders promoting self-care as a basis for action. Alessandra started a project called Mindfulness for NGOs to bring mindfulness-based interventions for stress reduction and burnout prevention to aid workers. She taught mindfulness to aid workers and activists in Israel and the Palestinian Territories. She published articles in academic and non-academic publications and spoke at conferences about aid workers' wellbeing. Her work appeared on BBC Radio Oxford, Channel 4 for Thought TV, Transformation / Open Democracy and in sector publications such as People in Aid, Devex, Aidpreneur, WhyDev, and the humanitarian news agency Irin News.
Alessandra was a visiting research fellow at the University of Oxford where she further researched aid workers' wellbeing and was about to submit her PhD thesis at the Department of War Studies and the Department of Global Health and Social Medicine, King's College London entitled "'A Bad Manager is Worse than War?' Investigating the Mental Health of Aid Workers Online And in the Field." Based on her work as a humanitarian psychologist and her field experience, in 2017 she published the well-acclaimed book "The Idealist's Survival Kit. 75 Simple Ways to Avoid Burnout."
She continues to have a wide following among aid workers and her work is well-regarded by both humanitarian practitioners and academics.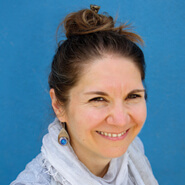 The Idealist's Survival Kit

75 Simple Ways to Avoid Burnout

The Idealist's Survival Kit is a series of 75 short reflections on mindfulness in action designed to support humanitarian professionals and volunteers in addressing the specific themes and issues that they are likely...

View this book