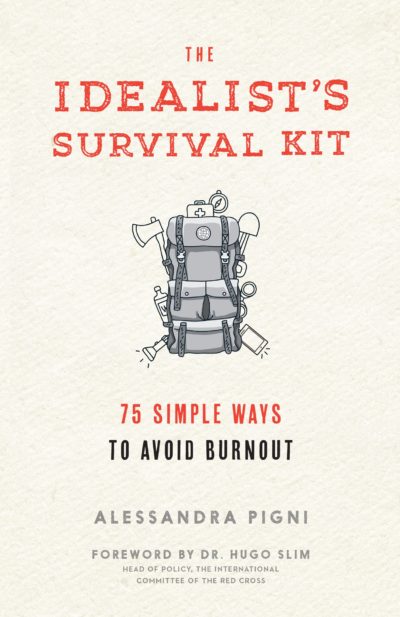 The Idealist's Survival Kit
75 Simple Ways to Avoid Burnout
The Idealist's Survival Kit is a series of 75 short reflections on mindfulness in action designed to support humanitarian professionals and volunteers in addressing the specific themes and issues that they are likely... Read More
Free U.S. shipping on orders above $30.
The Idealist's Survival Kit is a series of 75 short reflections on mindfulness in action designed to support humanitarian professionals and volunteers in addressing the specific themes and issues that they are likely to encounter in their work. The Idealist's Survival Kit is built on the premises that changing the world starts from within and that personal development and global development are interlinked.
Informed by academic research on humanitarian studies and aid workers' lifestyle, as well as organizational psychology and studies on burnout, Alessandra Pigni offers concrete help to aid workers. She shares their personal stories of working on the frontlines, gathered over years of interaction with humanitarian professionals and backed up by cutting–edge research, to offer antidotes to burnout, loss of motivation or purpose/meaning, and other challenges that aid workers often face.
Getting to know ourselves, setting appropriate boundaries, extending respect to oneself and colleagues—these are the conditions that allow all of us to engage with any situation with more awareness, openness, and compassion for ourselves and others. The reflections focus on aid workers' well–being and connect personal and global development.
Additional information
Additional information
| | |
| --- | --- |
| Weight | N/A |
| Dimensions | N/A |
| Format | Paperback, eBook |
| Pages | 256 |
| Trim Size | 5.2" x 8" |
| ISBN | 9781941529348 |
| ISBN | 9781941529355 |
About Alessandra Pigni
Alessandra Pigni (1974-2018) was a psychologist and organizational consultant who supported individuals working in the humanitarian and development sector. As a psychologist with Médecins Sans Frontières / Doctors Without Borders (MSF) she worked extensively in the Middle East and in China. She had been based in Jerusalem providing mindfulness-based staff... Read More
Related Products
Eyes of Compassion

"When I met Thich Nhat Hanh at the Fellowship of Reconciliation headquarters in Nyack, New York, he was thirty-nine and I was twenty-four.… This book attempts to share some of...

View this book