Brother Đại Lực shares his path to mindful eating, the impact small, daily choices can make, and a simple recipe for lemongrass curry.
"Our food comes from this beautiful planet. The Earth is inside of us, in each morsel of food, in the air we breathe, in the water that we drink and that flows through us. Enjoy being part of the Earth and eat in such a way that allows you to be aware that each bite is deepening your connection to the planet."

Thích Nhất Hạnh, How to Eat
These words from our teacher, Thầy, are like the sound of the bell reminding me to pause for a moment to recognize what is present within and around me. As a meditation practitioner, I have learned to slow down and live deeply in the present moment. However, even though I live in a peaceful and supportive monastic environment, I still find myself getting carried away by thoughts, emotions, my own stories, and other distractions.
Sometimes, I unintentionally take things for granted—simple, daily things like the bowl of cereal I eat every morning, or a cup of tea when I wake up.
Before becoming a monk, I grew up eating meals lovingly prepared by my mother and sister. I enjoyed food from restaurants and vendors on the streets of Việt Nam, my home country. This eating and drinking, though, was done to satisfy my hunger, quench my thirst, and entertain my taste buds. I did not spend much time looking deeply into the food, reflecting on where it came from, or considering its impact on our dear Mother Earth.
When I became a monastic in my thirties, I realized how unmindful I was when it came to food. I lacked understanding of the suffering that so many creatures go through to sustain our human lives. Meditation has given me the opportunity to deepen my awareness of and my relationship with food, and it has helped me to transform my habit of eating rapidly while daydreaming.
I gradually learned to eat with more awareness and appreciation. I was able to see the sun, the rain, and the farmer in a carrot. Recognizing the forest in a piece of paper was a moment of awakening for me. Each morsel of rice and each cup of tea became more real with my growing awareness of their deep connection to nature. As my awareness grows, I find that our vegetarian diet helps me to stay healthy and cultivate more compassion for living beings.
The Five Contemplations

This food is a gift of the earth, the sky, numerous living beings, and much hard and loving work.

May we eat with mindfulness and gratitude so as to be worthy to receive this food.

May we recognize and transform unwholesome mental formations, especially our greed, and learn to eat with moderation.

May we keep our compassion alive by eating in such a way that reduces the suffering of living beings, stops contributing to climate change, and heals and preserves our precious planet.

We accept this food so that we may nurture our brotherhood and sisterhood, build our Sangha, and nourish our ideal of serving all living beings.
The fourth of the Five Contemplations, recited before each meal, reminds us to eat "in such a way that reduces the suffering of living beings, stops contributing to climate change, and heals and preserves our precious planet." The act of choosing what to eat, when done with compassion, becomes a way to contribute to a better world. What if this small act of reducing suffering with each meal were multiplied by countless people practicing in this way? Together, we could offer an immeasurable contribution to the health of our planet.
It's this potential that inspires me to cook vegetarian dishes to offer to our community at the monastery. I've been surprised and delighted to hear that many of the friends who come to practice with us enjoy these vegetarian dishes so much that they ask for the recipes!
I know that not everyone can or is willing to eat vegetarian food all the time for many reasons. I remember how Thầy would skillfully and compassionately invite those used to eating meat to offer a loving and healing gift to Mother Earth by reducing their meat consumption by 50 percent. Perhaps by offering the following recipe for a classic dish we enjoy in the monastery, I can help inspire compassionate eating. You may be inspired to try eating vegetarian meals several days a week and see how you feel. How is your body? Do you notice any changes in your relationship to Mother Earth?
In the spirit of compassion, I offer you this simple lemongrass curry recipe. Please enjoy!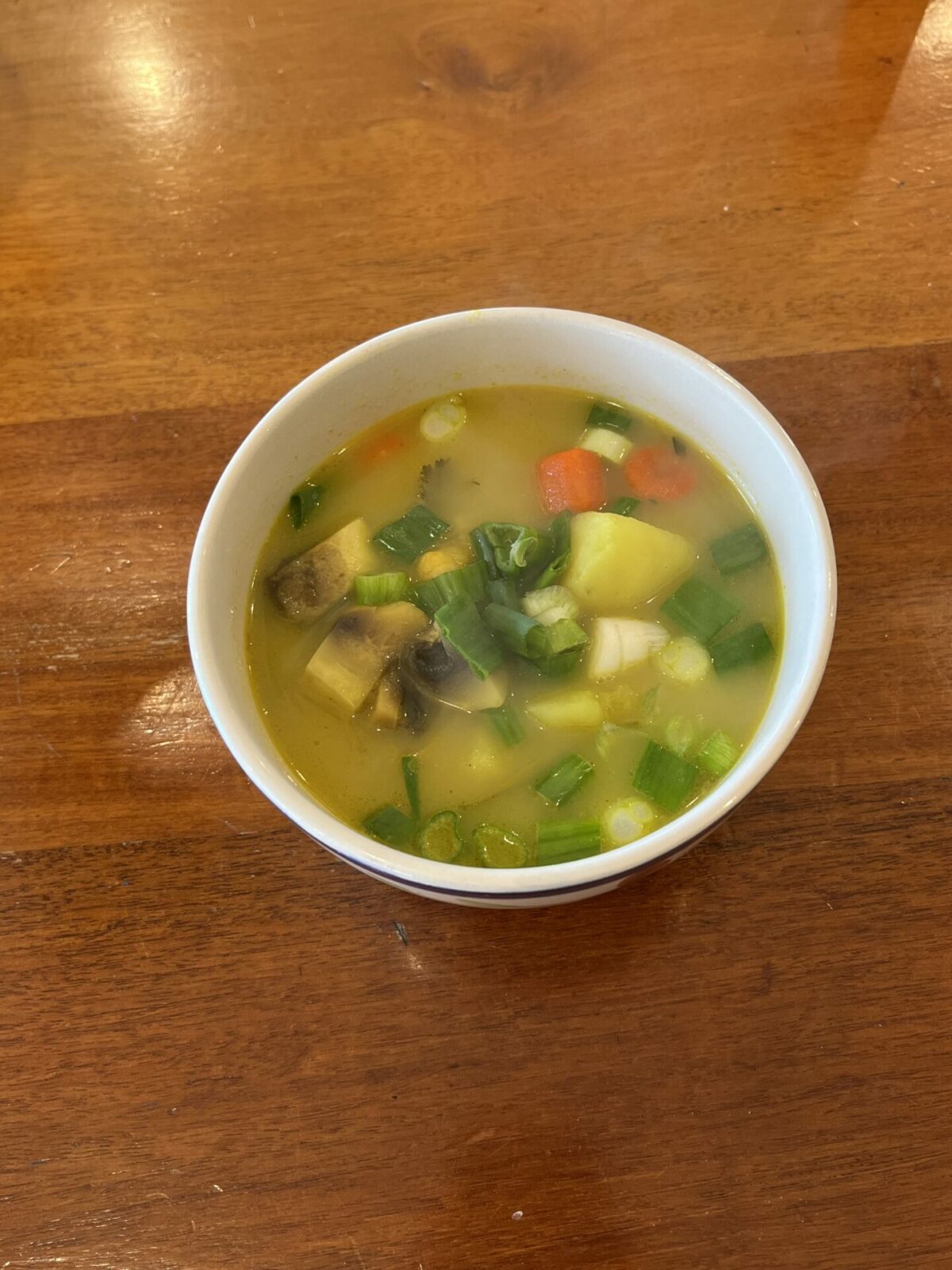 Lemongrass Curry
2 tablespoons vegetable oil
2 sticks lemongrass, tough outer layer removed, bruised with the back of a knife
½ onion, diced
½ teaspoon black pepper
1 cup carrots, sliced
2 cups potatoes, cubed
2 ½ tablespoons curry powder
1 ½ teaspoons salt
1 quart water
5 lemon leaves, sliced thin
1 tablespoon sugar
1 teaspoon mushroom powder
⅔ cup cooked chickpeas or fresh tofu, cubed
1 can coconut milk (13.5 oz, about 1 ⅔ cup)
1 cup white mushrooms, sliced
1 bunch spring onions, sliced thin
1 lime
Heat the vegetable oil in a wide pot over medium heat. Add the lemongrass (you may need to cut it to fit in the pot), onions, and black pepper.
Stir for one minute, then add the carrots and potatoes. Stir for three minutes.
Add one teaspoon of curry powder and a pinch of salt. Continue to stir the mixture for another minute.
Pour in water. When the water starts to boil, add the lemon leaves, 1 teaspoon salt, sugar, mushroom powder, and chickpeas or cubed tofu. Let everything boil until the carrots and potatoes are almost soft.
Add two tablespoons of curry powder, the can of coconut milk, and the fresh mushrooms. Let the mixture boil for a couple more minutes.
Please taste and add more curry powder, coconut milk, salt, sugar, and/or water if needed, depending on your preferences.
Garnish the curry with the chopped spring onion and lime wedges. Serve with bread, rice, or rice noodles.
Serves 2–4