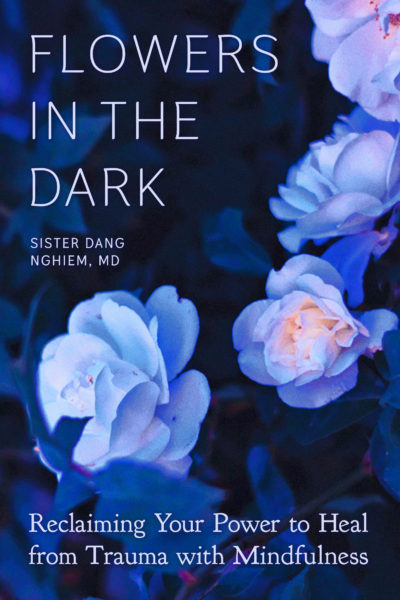 Flowers in the Dark
Reclaiming Your Power to Heal Trauma through Mindfulness
Learn the accessible and deeply compassionate practices for healing trauma, known as the Five Strengths of applied Zen Buddhism. More than a philosophy, these body-based practices are backed by modern... Read More
Free U.S. shipping on orders above $30.
Learn the accessible and deeply compassionate practices for healing trauma, known as the Five Strengths of applied Zen Buddhism. More than a philosophy, these body-based practices are backed by modern neuroscience research, and they can be applied by anyone suffering from trauma to begin experiencing relief.
Mindfulness teacher Sister Dang Nghiem, MD, is an inspiration for anyone who has ever suffered from abuse, life-changing loss, severe illness, or the aftermath of war. In Flowers in the Dark, she brings together her lived experience as a survivor, certified MD, and ordained Buddhist teacher to offer a body-based, practical approach to healing from life's most difficult and painful experiences.
Offering insights from Buddhist psychology and simple somatic practices for tapping into our Five Strengths–our inner faculties of self-trust, diligence, mindfulness, concentration, and insight–Sister Dang Nghiem's approach to trauma is radically accessible; it begins with awareness of our breathing. With each chapter containing a progression of guided reflections an exercises, this book can be read as an adjunct to therapy and a helpful guide for moving through trauma in the body. With the practice of mindfulness, we can access our strength as survivors and our joy in being alive.
Additional information
Additional information
| | |
| --- | --- |
| Weight | N/A |
| Dimensions | N/A |
| Format | Paperback, eBook |
| Pages | 256 |
| Trim Size | 5.5 x 8.25 |
| ISBN | 9781946764560 |
| ISBN | 9781946764577 |
What a profound and hopeful book! It offers the best practical wisdom for life's worst experiences....highly recommended.

Rick Hanson, PhD, author of Buddha's Brain: The Practical Neuroscience of Happiness, Love, and Wisdom
While Nghiem's techniques can be valuable to anyone seeking personal growth or comfort for pain, those who have experienced severe traumas will find those treated here with sensitivity and compassion, and may find reasons to hope.

Publishers Weekly
"Courageous, clear and insightful writing by Sister D. combines the Dharma with beautiful prose and powerful stories; it is fresh and deep."

Amazon Customer
"It's clear Sister Dang Nghiem has preternatural gifts of compassion, humor, healing and strength. Take a slow breath and literary walk with you her and I wouldn't be surprised if your similar gifts come to the fore."

Mike Murray
Show more quotes