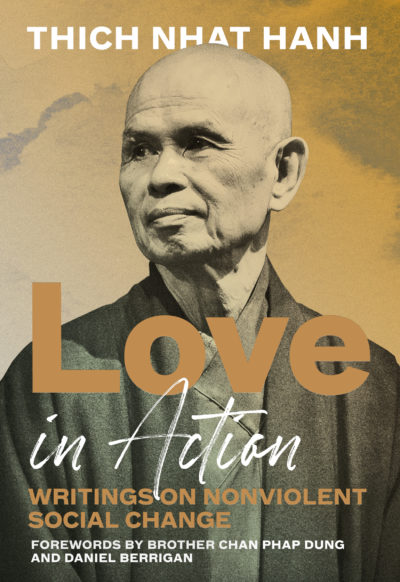 Love in Action
Writings on Nonviolent Social Change
Love in Action is a collection of over two decades of Thich Nhat Hanh's writing on nonviolence, peace, and reconciliation. Reflecting on the devastation of war, he makes the strong... Read More
This product will be released on May 16, 2023.
Pre-ordering will become available on April 16, 2023.
Love in Action is a collection of over two decades of Thich Nhat Hanh's writing on nonviolence, peace, and reconciliation. Reflecting on the devastation of war, he makes the strong argument that mindfulness, insight, and altruistic love are the only sustainable bases for political action. This timeless book is an important resource for those interested in social change.
Additional information
Additional information
| | |
| --- | --- |
| Weight | N/A |
| Dimensions | N/A |
| Format | Paperback, eBook |
| Pages | 208 |
| ISBN | 9781952692079 |
| ISBN | 9781952692024 |
About Thich Nhat Hanh
Thich Nhat Hanh was a world-renowned spiritual teacher and peace activist. Born in Vietnam in 1926, he became a Zen Buddhist monk at the age of sixteen. Over seven decades of teaching, he published more than 100 books, which have sold more than four million copies in the United States... Read More
Related Products
America's Racial Karma

An Invitation to Heal

Immediate, illuminating, and hopeful: this is the key set of talks given by leading Zen Buddhist teacher Larry Ward, PhD, on breaking America's cycle of racial trauma.

View this book