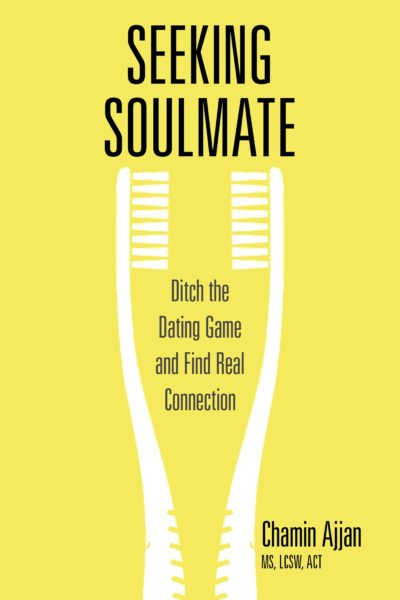 Seeking Soulmate
Ditch the Dating Game and Find Real Connection
Transform dating and the often-fraught search for a fulfilling relationship into a fun, exciting adventure using mindfulness techniques and practices. Dating is a 2 billion dollar industry. Everyone, it seems,... Read More
Free U.S. shipping on orders above $30.
Transform dating and the often-fraught search for a fulfilling relationship into a fun, exciting adventure using mindfulness techniques and practices.
Dating is a 2 billion dollar industry. Everyone, it seems, is looking for love but for so many it is an endless struggle. In Seeking Soulmate: Ditch the Dating Game and Find Real Connection, Brooklyn-based therapist Chamin Ajjan offers a fresh perspective to this universal pursuit. With a friendly, funny, and informative approach, Ajjan applies the evidence-based theories of Cognitive Behavior Therapy and mindfulness meditation practice to the negative behaviors, thoughts, and patterns that cause dating distress.
Every stage of the dating process, from finding someone to date, to developing a relationship, has its own particular difficulties. Seeking Soulmate shares case vignettes, relatable characters, and personal experiences from Ajjan's clinical experience to illustrate how the personal insight gained with practicing mindfulness can transform the anxiety, negative thoughts, and overall hopelessness that accompanies the unsuccessful pursuit of love into fun, rewarding, exciting dating adventures. Ajjan provides an explanation for dating difficulties, a foundation for practice, and practical exercises to create real change. These methods are available to everyone, regardless of age, socioeconomic status, ethnic, cultural, or religious background, or sexual orientation.
Seeking Soulmate will help you develop the most important benefit of mindful dating: the ability to let your genuine, most attractive self emerge. This is how real relationships with the actual staying power are formed.
Additional information
Additional information
| | |
| --- | --- |
| Weight | N/A |
| Dimensions | N/A |
| Format | Paperback, eBook |
| Pages | 224 |
| Trim Size | 5.5" x 8.25" |
| ISBN | 9781941529577 |
| ISBN | 9781941529584 |