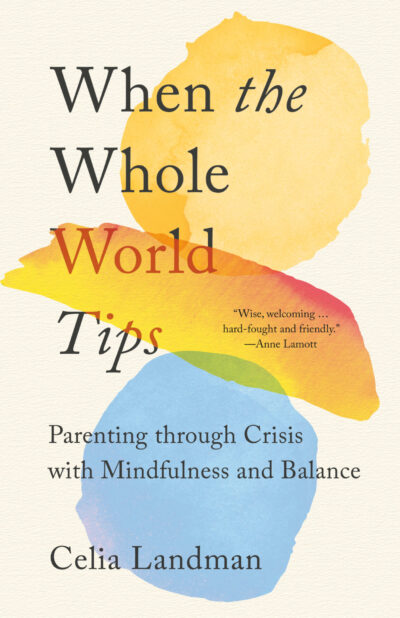 When the Whole World Tips
Parenting through Crisis with Mindfulness and Balance
Move from helplessness to stability as a parent through the ancient practice of equanimity, or balance. Drawn from Buddhist wisdom and with practices included, this new approach to mindful parenting... Read More
This product will be released on November 21, 2023.
Free U.S. shipping on orders above $30.
Move from helplessness to stability as a parent through the ancient practice of equanimity, or balance. Drawn from Buddhist wisdom and with practices included, this new approach to mindful parenting is about slowing down, letting go of the illusion of control, and caring for yourself so that you can show up as a presence of love and care for your children even in their most difficult moments.
We love our children more deeply than our own selves, yet are powerless to keep them from pain. Drawing from her own experience parenting a clinically depressed and suicidal child and another through physical injury, Celia Landman guides parents at their limit back from helplessness to stability through the ancient practice of equanimity, or balance.
When the Whole World Tips is rich with real life examples from parents in the midst of caring for children in crisis and plentiful resources. Each chapter offers accessible practices for parents to care for themselves in order to care for their children.
Contemporary neuroscience and developmental psychology research demonstrates how a parent's state of anxiety is directly communicated to the child and can intensify their pain.
Landman gently guides parents to restore their own balance through understanding how to keep their heart open and their hands off the wheel of controlling how their child's life unfolds. This shift into equanimity frees emotional enmeshment and can bring relief to both child and parent.
Woven throughout are practices to help parents understand that their emotional state of being is as important as what they do. When we recognize that being a presence of love and care is already doing something of great value, it can reconnect us with purpose and restore our trust that we are capable and enough.
Additional information
Additional information
| | |
| --- | --- |
| Weight | N/A |
| Dimensions | N/A |
| Format | Paperback, eBook |
| Pages | 224 |
| ISBN | 9781952692550 |
| ISBN | 9781952692567 |