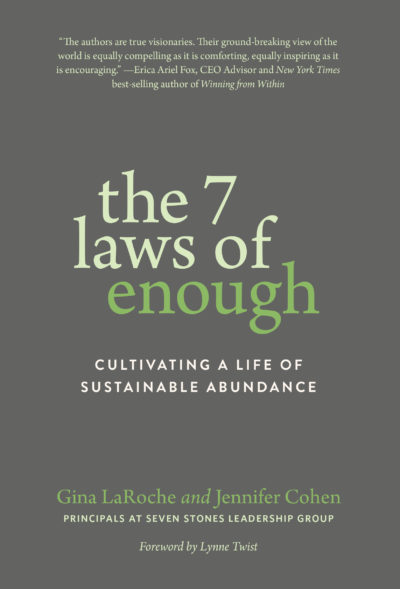 The 7 Laws of Enough
Cultivating a Life of Sustainable Abundance
The gap between those who have and those who don't grows; the deep conflicts within our society around race and privilege are pervasive; and many other inequities undermine our sense... Read More
Free U.S. shipping on orders above $30.
The gap between those who have and those who don't grows; the deep conflicts within our society around race and privilege are pervasive; and many other inequities undermine our sense of safety and belonging in our world. As individuals, we try to satisfy our longing for love and connection with the consumption of more and more stuff. But our unbridled obsession with consuming more of everything with blatant disregard for the impact on us, on other species, and on the planet does just the opposite, eroding our well-being while irreparably damaging our Earth.
In The 7 Laws of Enough, leadership consultants Jen Cohen and Gina LaRoche offer readers the tools to make a transformational journey from living a life in a debilitating mindset of scarcity and lack to creating a new mindset of enough while living in a network of love and commitment.
After almost fifty years combined helping business and thought leaders to excel in uncertainty and quick-shifting terrain, Cohen and LaRoche offer readers a framework that points to a future that is sustainable and sustaining, where we rest in the incredible bounty available to us at all times.
Additional information
Additional information
| | |
| --- | --- |
| Weight | N/A |
| Dimensions | N/A |
| Format | Paperback, eBook |
| Pages | 208 |
| Trim Size | 5.5" x 7.25" |
| ISBN | 9781941529904 |
| ISBN | 9781941529911 |
"Lucid, practical, inspiring. Gina LaRoche and Jennifer Cohen have written the perfect guidebook for the deep release of the sense of scarcity that drives many of us."

Marilyn Paul
"There's A LOT of great actionable information and I envision using this book as a guide over the next year to create... the life we all dream of."

Michelle
"Life changing! This book is set up as a workbook with excellent questions. You don't just sit and read. You read, pull out a journal and reflect."

Eileen Sullivan
"This book is incredible—just blows away one myth after the next, inviting us all to take a leadership role in the creation of a world that's so radically different from our deeply embedded "stuck" ways of living."

Deb
Show more quotes
About Gina LaRoche
Organizational leadership consultant, facilitator, and executive coach Gina LaRoche has 20 years of experience coaching academic and executive leaders and entrepreneurs. She holds an MBA from Harvard Business School and is a graduate of Spirit Rock Meditation Center's Community Dharma Leaders Program. Gina LaRoche is a leader at New Haven... Read More
About Jennifer Cohen
Jennifer Cohen is a leadership and organizational coach and consultant with 25 years in the field. Known as a "coach's coach," Jennifer has worked with senior coaches and senior trainers at Fortune 500 companies and the country's top universities. She is a devoted student of Vippasana meditation, a yoga practitioner,... Read More
Related Products
The Art of Money

A Life-Changing Guide to Financial Happiness

The Art of Money brings mindfulness, body-based awareness, and radical self-love to one of our most troublesome relationships, the one with our money.

View this book

We Are the Economy

The Buddhist Way of Work, Consumption, and Money

A no-nonsense Zen approach to our economic realities can change everything. Is it possible to be personally fulfilled, and also make a difference within our current financial system? If you're...

View this book

Work That Matters

Create a Livelihood That Reflects Your Core Intention

Create a career that expresses your life's core intention as you use mindfulness-based guide to clarify your true calling, create a vision for meaningful vocation, and enact practical steps to make that vision a vivid reality.

View this book