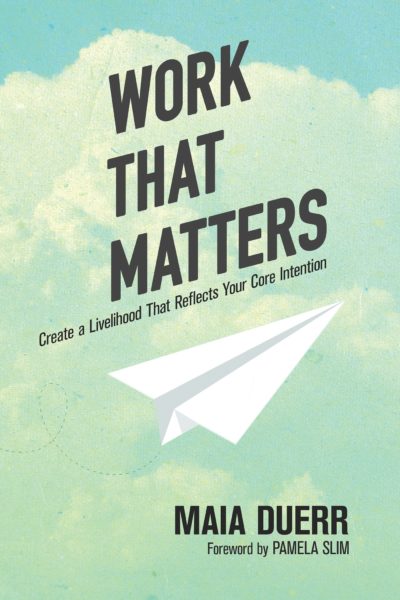 Work That Matters
Create a Livelihood That Reflects Your Core Intention
Create a career that expresses your life's core intention as you use mindfulness-based guide to clarify your true calling, create a vision for meaningful vocation, and enact practical steps to make that vision a vivid reality.
Free U.S. shipping on orders above $30.
So many of us feel trapped in wage slavery and deadened to our true talents and life's purpose. Or we've wandered through dozens of jobs and are left feeling adrift and without meaning in our lives. Livelihood is a source of great suffering for way too many.
Author and longtime meditator Maia Duerr wandered through several professions and dozens of jobs (including alfalfa sprout packer and Buddhist chaplain) before she finally unlocked a combination of work that was deeply fulfilling and sustainable. These experiences provided her with rich material to examine the emotional, psychological, and cultural barriers to creating work that expressed her life's core intention, what she calls "Liberation-Based Livelihood."
Work is one of the primary vehicles for expressing our deepest selves. Using the 6 Keys to Liberation-Based Livelihood as a framework, Duerr takes readers through a comprehensive process that can lead to breakthroughs and positive reformulation of their careers. Mindfulness practice is an invaluable tool in the process of gaining new perspective. Work That Matters gives you the tools to create joyful work that embodies love and compassion—for yourself, and for the whole world.
Additional information
Additional information
| | |
| --- | --- |
| Weight | N/A |
| Dimensions | N/A |
| Format | Paperback, eBook |
| Pages | 240 |
| Trim Size | 6" x 9" |
| ISBN | 9781941529683 |
| ISBN | 9781941529690 |
"I have often looked for a great book to recommend to my coaching clients who are in a career/business exploration process and I have been mostly disappointed in the options, until now... This isn't fluff."

Val Nelson
"Maia's gentle approach opens your eyes to a new way of thinking about your work, so you can contribute in your own unique way."

Ursula Jorch
"The questions that she raises are brilliant, and provocative - so different from many of the 'how to' books that I've read. Maia's grounding in spiritual practice lifts the whole encounter with this deep, beautifully crafted guide to the level of a powerful and deeply personal journey of 'waking up'."

Marianne Murray
"Great no matter what kind of life transition you're navigating."

Nick Battaglia
Show more quotes