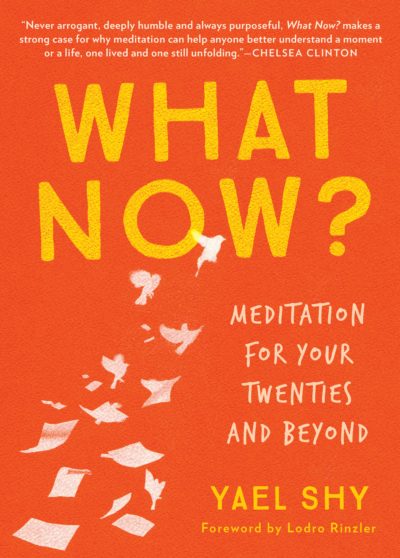 What Now?
Meditation for Your Twenties and Beyond
Buddhist teachings and meditation offer a roadmap to help college students and others in early adulthood incorporate mindfulness into their lives as a means of facing the myriad struggles unique to this stage of life.
Paperback, 224, 5" x 7"
$15.95
In stock
Free U.S. shipping on orders above $30.
So much of what marks early adulthood is intense emotions and insecurity. What if you never fall in love? What if you can't find a job you like? You miss home. You have no home. Are you having enough sex? Are you having too much sex? You're lonely all the time. Your relationships with your friends are complicated.
What Now? shares mindfulness practices to help twentysomethings learn to identify and accept these feelings and respond—not react—to painful and powerful stimuli without pushing them away or getting lost in them. This is not about fixing oneself or being "better." Readers are encouraged to embrace themselves exactly as they are. You are already completely whole, completely loveable, completely worthy. What Now? shares practices that help us to wake up to this fact.
This uniquely tumultuous developmental period is a time when many first live away from home and engage in all kinds of experimentation—with ideas, substances, relationships, and who we think we are and want to be in the world. Yael Shy shares her own story, and offers basic meditation guides to beginning a practice. She explores the Buddhist framework for what causes suffering, and explores ideas about interconnection and social justice as natural outgrowths of meditation practice.
Additional information
Additional information
| | |
| --- | --- |
| Weight | 0.50 lbs |
| Dimensions | 7.000 × 5.000 × 0.750 in |
| Format | Paperback |
| Pages | 224 |
| Trim Size | 5" x 7" |
| ISBN | 9781941529829 |
About Yael Shy
Yael Shy is the Founder and Director of MindfulNYU (the largest campus-wide meditation initiative in the country) and the Senior Director of the Center for Global Spiritual Life at New York University. She leads meditation workshops, classes, and retreats around the country and the world, including at NYU Abu Dhabi,... Read More
Related Products
Heal Your Living

The Joy of Mindfulness, Sustainability, Minimalism, and Wellness

Embark on a transformational journey with this easy-to-use minimalist, mindful guide to physical and emotional decluttering from the founder of Heal Your Living, the Youtube lifestyle channel with over 250,000...

View this book