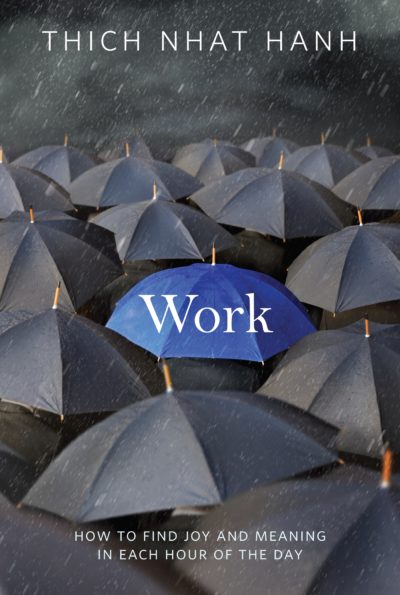 Work
How to Find Joy and Meaning in Each Hour of the Day
In Thich Nhat Hanh's latest teachings on applied Buddhism for both the work place and daily life, chapters include dealing with workplace scenarios; dealing with home and family; encounters with... Read More
Free U.S. shipping on orders above $30.
In Thich Nhat Hanh's latest teachings on applied Buddhism for both the work place and daily life, chapters include dealing with workplace scenarios; dealing with home and family; encounters with strangers and with daily life; transportation; and creating communities wherever you are. This book is designed for adults who are new to meditation as well as those who are more experienced.
The emphasis is on how to use applied Buddhism in daily life. Work aims at contributing to new models of leadership and doing business. It is also a book full of life-coaching advice, finding happiness, and positive psychology.
We all need to "Chop Wood and Carry Water". Most of us experience work, hardship, traffic jams, and everything modern, urban life offers. By carefully examining our everyday choices we can move in the direction of right livelihood; we can be a lotus in a muddy world by building mindful communities, learning about compassionate living, or by coming to understand the concept of "Buddha nature."
Work also discusses mindful consumption, or the mindful use of limited resources. Instead of Living Large in Lean Times or Ramen to Riches we can learn to appreciate living less large and think about what kind of riches we want for ourselves and others.
Additional information
Additional information
| | |
| --- | --- |
| Weight | N/A |
| Dimensions | N/A |
| Format | Paperback, eBook |
| Pages | 120 |
| Trim Size | 8.000" x 5.380" |
| ISBN | 9781937006204 |
| ISBN | 9781937006259 |