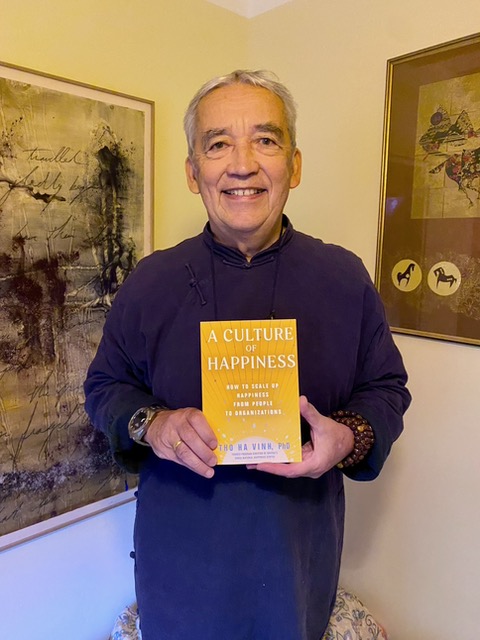 ---
Celebrating the release of A Culture of Happiness, author Tho Ha Vinh answers questions about happiness, the framework used in Bhutan to measure happiness, and tools that readers can use today to cultivate more happiness.
Tho Ha Vinh, PhD, was born in 1951, the son of a Vietnamese father and a French mother. He was the program director of the Gross National Happiness Center (GNH) of the country of Bhutan from 2012 to 2018. Serving as the Head of Training, Learning, and Development at the International Committee of the Red Cross, he trained humanitarian professionals working in war zones and emergency response in Afghanistan, Pakistan, Palestine, and Darfur. He holds a PhD in psychology and education from Geneva University, Switzerland.
Happiness can be difficult to define. How do you define it in the context of your book?
Tho Ha Vinh: The happiness we speak about in the context of Gross National Happiness (GNH) does not focus on fleeting pleasures, but on creating the inner and outer conditions for a meaningful life, one that enables us to live in harmony with our deepest aspirations and highest potential. It has three fundamental components:
To live in harmony with, and care for our Self.
To live in harmony with, and care for others and society.
To live in harmony with, and care for our precious and fragile planet.
When countries are ranked by happiness in the media, GDP is a primary metric used. What is the problem with conflating Gross Domestic Product with happiness?
Tho Ha Vinh: Measuring economic success of a country can suggest financial stability of its citizen but it does not take into consideration the distribution of wealth, so even in a rich country like the USA, there is a huge discrepancy between rich and poor, and this gap has been widening in the last decades. GDP does not differentiate between economic activities that have a positive impact on society such as building good infrastructures, schools, or health services; and transactions that are harmful for people and/or planet, such as producing weapons, harmful pollutants, or dangerous drugs. It also does not account for the ecological impact of mindless production and consumption. Even in rich and peaceful societies that have reached an unprecedented level of comfort, material facilities, and living standards, at the individual level, we still see a great deal of personal suffering, stress, feelings of isolation, and meaninglessness.
What metrics does Gross National Happiness use to measure happiness?
Tho Ha Vinh: There are 9 Domains that are assessed to get a holistic understanding of those surveyed. In Bhutan, this assessment is completed every three years by polling a representative sample of the population. The Domains are Psychological well-being, Health, Time use, Education, Cultural diversity and resilience, Community vitality, Good governance, Ecological diversity and resilience, and Living standards.
It is important to note that these domains are seen as being interdependent, and there is also the important notion of "sufficiency threshold" meaning that we should not only strive to constantly increase the numbers in all the 9 domains, but that we also should also ask the question " How much is enough?". Otherwise, the danger is to overstretch the resources of our planet. We cannot have infinite growth on a finite planet.
Happiness means feeling you are on the right path every moment. You don't need to arrive at the end of the path in order to be happy. The right path refers to the very concrete ways you live your life in every moment.

Thích Nhất Hạnh
How can Gross National Happiness be implemented across varied cultures?
Tho Ha Vinh: Although Gross National Happiness originates in Bhutan, it addresses issues and is built on values that are not specifically Asian or Buddhist, but universally human. The pursuit of Happiness is explicitly mentioned in the US Declaration of Independence, and Aristotle wrote "Happiness is the meaning and the purpose of life, the whole aim and end of human existence." We have implemented GNH projects in Vietnam, Switzerland, France, Germany, and the US and have found that people relate to it despite their different cultural, social, and political background. One "Canton" in Switzerland (the equivalent of a state in the US) has introduced GNH survey in the measurement of its development. This being said, the indicators have to be adapted to the reality of a specific context and cannot simple be copy/paste from the Bhutanese model.
What change can readers make today in order to cultivate more happiness?
Tho Ha Vinh: GNH takes into consideration both the outer conditions and the inner conditions of Happiness and Wellbeing.
When focusing on the outer conditions, using the GNH 9 domains self-assessment tool can help to identify the areas of our life that need more attention and we become aware of possible imbalances in the different fields of our existence that should be addressed. For instance, if we are dissatisfied with our "time use", are we willing to reduce slightly our income to have more free time? If we notice that the "community vitality" is weak, are we committed to engage in community services to strengthen the social bonds?
A good question to ask ourselves is: "what should I let go off so that something new can arise?"
When focusing on the inner conditions, there are two main aspects of the " Happiness skills" that we can develop right away:
Taking up regular Mindfulness practices. We know from multiple research projects that Mindfulness increases significantly inner peace, wellbeing, and emotional stability. It helps cope with stress, conflict, and pressure.
Cultivating Emotional Intelligence through increased self-awareness, taking time to identify recognize and accept our emotions. Learning to manage disturbing emotions and cultivating intentionally uplifting states of mind such as gratitude, kindness, and generosity. Practicing listening deeply when we interact with others in other to strengthen our empathy. Investing time and energy in building long lasting nourishing relationships based on friendship, love, trust, and respect.
We cannot always change the outer conditions, although if we know what we want to achieve, it might be easier than we think. But to cultivate the inner "Happiness skills" can be done right away independently of any outer circumstance.
If you're excited to begin growing your own Happiness skills, pick up your copy of A Culture of Happiness today!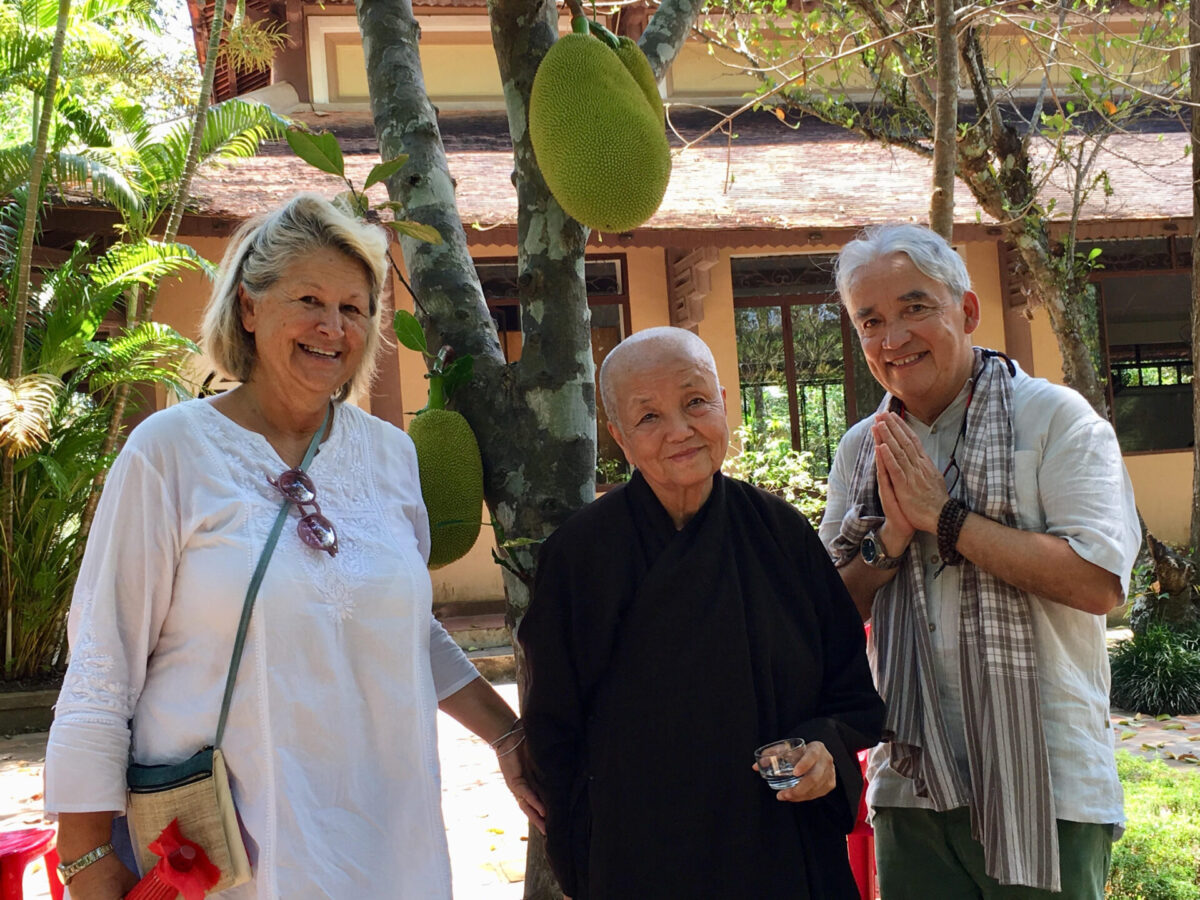 "I greatly admired and closely followed the initiatives developed by Tho based on the teachings of Mindfulness that we all learned from Thay Thich Nhat Hanh…This book is a guide to practicing generosity in one's thoughts, words and deeds and to understanding that the happiness and suffering of others is closely linked to one's own happiness and suffering. It is based on the conviction that transformation begins within each and every one, but must also contribute to creating a fairer society and a better world."

Sister Chân Không
---