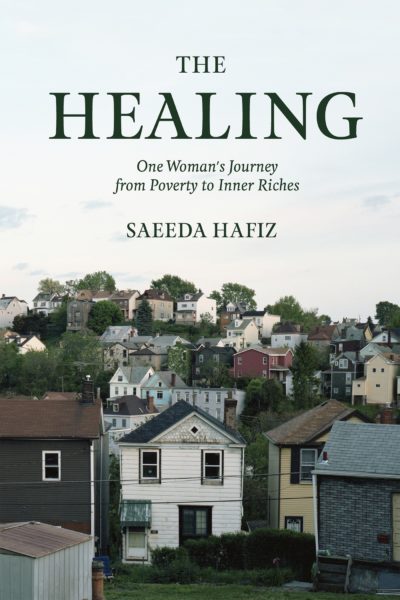 The Healing
One Woman's Journey from Poverty to Inner Riches
In this memoir of upward mobility through the unexpected route of yoga, a young African American woman signs up for lessons in yoga and clean eating as a sign that... Read More
Free U.S. shipping on orders above $30.
In this memoir of upward mobility through the unexpected route of yoga, a young African American woman signs up for lessons in yoga and clean eating as a sign that she has now entered the middle class. The Healing is Saeeda Hafiz's personal, painfully honest account of facing the inner demons fed by the domestic violence, addiction, and poverty she witnessed as a child.
Graduating, getting established in your career, and dating are things many middle-class women expect to do and take for granted. Yet when your parents don't support you and you have siblings in prison, those milestones seem monumental. What does growing up poor do to your self-esteem? How do patterns of stress and family violence, poor diet and poor health continue to affect you even after you escape to a higher income bracket? And what can one woman do to turn around the cycle of intergenerational suffering? Hafiz gives a frank account of the anxiety and rewards of becoming "middle class" through a complete change of diet, both physical and mental, and adopting habits such as eating wholesome food and doing yoga. While her peers pursue one kind of African American dream by climbing the corporate ladder, Hafiz finds meaning in learning to cook macrobiotic food and practice meditation. By doing so, she recovers from chronic health conditions and heals from the family trauma she has inherited.
Additional information
Additional information
| | |
| --- | --- |
| Weight | N/A |
| Dimensions | N/A |
| Format | Paperback, eBook |
| Pages | 296 |
| Trim Size | 6" x 9" |
| ISBN | 9781946764041 |
| ISBN | 9781946764058 |
"The depth, clarity, and honesty in this book made me feel less alone in my own journey. It's inspirational and grounding at the same time."

Lorraine Albert
"Hafiz writes honestly about fears around repeating the mistakes of one's family, and struggles to fit in as one gains class mobility. The Healing is an inspiring, intense story of empowerment that is not often told."

M.C.
"I have gifted this book to a few friends and each of them have loved it! ... I tried a few of the recipes from the book as well--LOVED them!"

Amy Dudley
"I would recommend the book to anyone...who believes that their life is set in stone because of their upbringing. You can be healed."

Edel Pace
Show more quotes
About Saeeda Hafiz
Saeeda Hafiz is a graduate of Temple University in Philadelphia. She spent her twenties working in management, believing mainstream success was her key out. After discovering the power of yoga to transform, she took a leap of faith to train to become a yoga teacher and wellness expert. She studied... Read More
Related Products
Healing

A Woman's Journey from Doctor to Nun

This extraordinary story takes the reader from the rice fields of Vietnam to the peaceful surrounding of Thich Nhat Hanh's monastery in Plum Village where Sister Dang Nghiem took refuge....

View this book

Long Weekend

Guidance and Inspiration for Creating Your Own Retreat

With simple mindfulness activities, healthy recipes, and suggested itineraries to recharge, build community, and inspire creativity, this beautiful photo book is full of ideas that will inspire anyone seeking relaxation...

View this book

This Difficult Thing of Being Human

The Art of Self-Compassion

We all long for someone to offer us unconditional love and support. But what if that person is us? The practice of mindful self-compassion creates the space we need so...

View this book