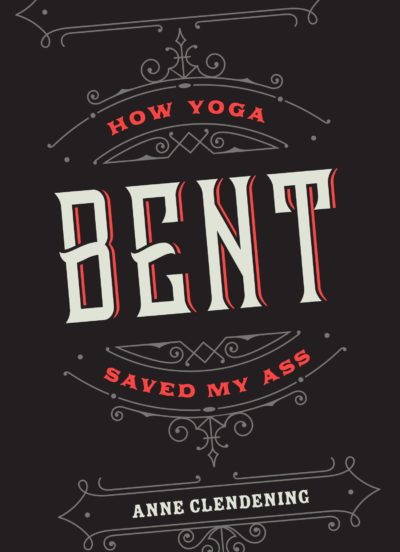 Bent
How Yoga Saved My Ass
A yoga teacher with an attitude shares irreverent stories about addiction, heartbreak, and illness.
Free U.S. shipping on orders above $30.
Anne Clendening thought she'd grow up to be a rock star's wife, living in the Hollywood Hills and partying every night with The Stones. Drinking at 13, then bartending in Hollywood nightclubs, designing her own clothing line, producing fashion shows, working on music videos and photo shoots with Black Sabbath and other bands, she seemed well on her way…until she was arrested for drunk driving at age 21. Bent: How Yoga Saved My Ass is Clendening's contemplation of the events that shaped her life and the unforeseen shift in her perception that occurred when she found yoga and Eastern philosophy.
With edgy humor and disarming candor, Clendening charts her journey through alcoholism, heartbreak, mysterious health problems, and a diagnosis of Parkinson's Disease on her way to the devoted yoga practice that helped her understand herself differently and ultimately transform her life. She writes, "Life can be confusing, beautiful, disappointing, undeniably amazing, and invariably marked with difficulty. Sometimes there's a happy ending, and other times, there just ain't." In Bent she grapples with universal themes of death, happiness, pain, illness, and freedom with wonderful wit and insight. This is a book about discovering who you really are, and letting go of who you're not. It's about free spiritedness—pure, unrestrained freedom from the bondage of self-centered fear and less-than-splendid circumstances and embracing the principles of oneness and loving-kindness (even if you have no idea what that means).
Additional information
Additional information
| | |
| --- | --- |
| Weight | N/A |
| Dimensions | N/A |
| Format | Paperback, eBook |
| Pages | 208 |
| Trim Size | 5"x7" |
| ISBN | 9781941529652 |
| ISBN | 9781941529669 |
"An amazing book at how a life-changing diagnosis can turn your life upside down. There's no self pity, just a very honest insight to how this woman dealt with it in her own way."

Debbie Taylor
"If you've ever tried yoga, read this book. If you want to try yoga but you're scared, read this book. If you need inspiration, read this book."

Ronna
"This is a great book from first time book author Anne Clendening. Smart, funny, engaging, Bent will make you, laugh, cry, want to do yoga, and realize you can get through and overcome anything in life."

Jalee
"Read this book if your ass needs saving or even for just a good read; the book is delightful."

Marion Lane
Show more quotes