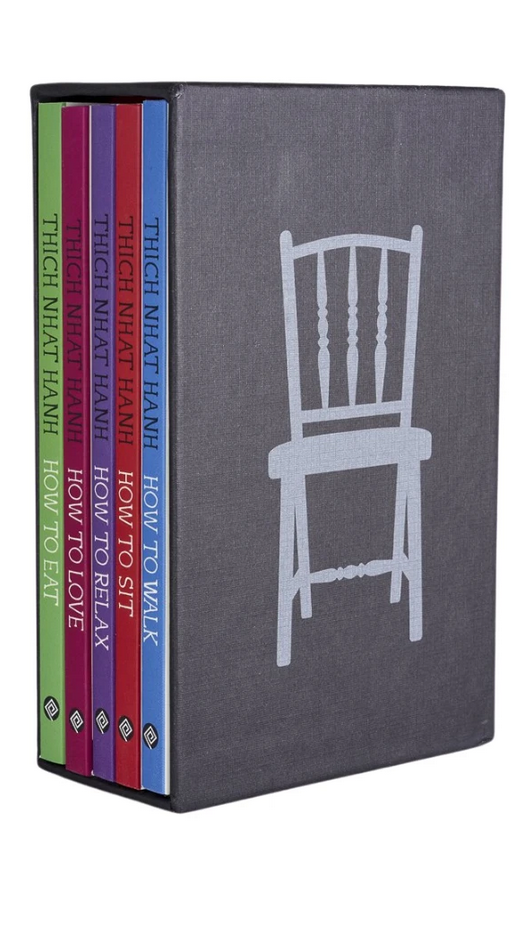 How to Live Box Set
The Bestselling How Tos
How to Live Box Set includes the five bestselling handbooks of Thich Nhat Hanh's Mindfulness Essentials Series, How to Sit, How to Eat, How to Walk, How to Love, and... Read More
In stock
Free U.S. shipping on orders above $30.
How to Live Box Set includes the five bestselling handbooks of Thich Nhat Hanh's Mindfulness Essentials Series, How to Sit, How to Eat, How to Walk, How to Love, and How to Relax.
Collected together for the first time in a beautifully designed gift box, all five titles are in their original trade paperback editions, each printed with a different highlight color.
The Mindfulness Essentials Series by Zen Master Thich Nhat Hanh will introduce beginners and remind seasoned practitioners of the essentials of mindfulness practice.
The five books are pocket-sized with bold drawings by California artist Jason DeAntonis, each in a different highlight color. When the spines are lined up in this handsome gift box, the presentation is striking.
The How to Live Box Set is a great gift of resources that provide explicit, simple directions for carrying out everyday activities with the focused awareness of mindful attention.
Additional information
Additional information
| | |
| --- | --- |
| Weight | 1.19 lbs |
| Dimensions | 6.250 × 4.000 × 2.000 in |
| Format | Box set |
| Trim Size | 4.2" x 2.1" x 6.4" |