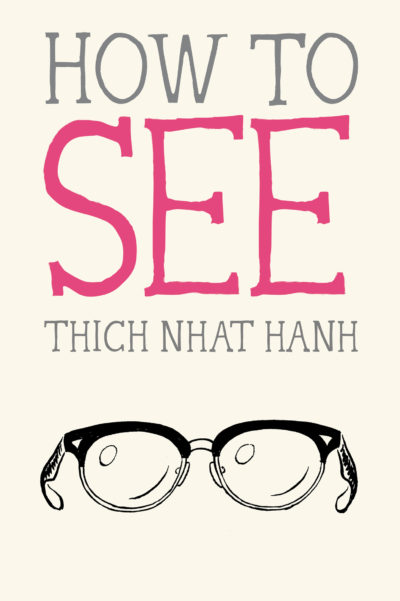 How to See
Learn to look deeply at the nature of things, objects, emotions, and perceptions.
Free U.S. shipping on orders above $30.
How we develop misperceptions, how we can gain insight, and how mindfulness practices can help us see ourselves, each other, and the world around us more clearly are just a few of the topics touched upon in this latest addition to the Mindfulness Essentials Series.
In brief meditations accompanied by whimsical sumi-ink drawings, Thich Nhat Hanh helps us focus on perceptions and challenging situations. How to See is pocket-sized with two color original artwork by California artist Jason DeAntonis.
Additional information
Additional information
| | |
| --- | --- |
| Weight | N/A |
| Dimensions | N/A |
| Format | Paperback, eBook |
| Pages | 128 |
| Trim Size | 4" x 6" |
| ISBN | 9781946764331 |
| ISBN | 9781946764348 |
About Thich Nhat Hanh
Thich Nhat Hanh was a world-renowned spiritual teacher and peace activist. Born in Vietnam in 1926, he became a Zen Buddhist monk at the age of sixteen. Over seven decades of teaching, he published more than 100 books, which have sold more than four million copies in the United States... Read More
About Jason DeAntonis
Jason DeAntonis is an award-winning polymathic Bay Area artist, known for his fine carpentry, custom furniture, and detailed woodwork. He has also worked in sculpture, costume design, glass blowing, painting, printmaking, and book illustration. His work has appeared in Mindfulness in the Garden, and the Mindfulness Essentials series. He lives... Read More
Related Products
How to Eat

How to Eat clearly and succinctly explains how you can incorporate eating as a form of meditation. The book provides practical advice on how to become truly nourished through the mindful...

View this book

How to Relax

In How to Relax, Zen Master Thich Nhat Hanh shares inspiration and clear, simple directions for exploring mindfulness meditation. With sections on healing, relief from nonstop thinking, transforming unpleasant sounds, solitude,...

View this book

Making Space

Creating a Home Meditation Practice

Find peace and calm amid the busyness of your life with Making Space by Zen Master Thich Nhat Hanh. Designed to be both inspiration and guidebook for those new to...

View this book