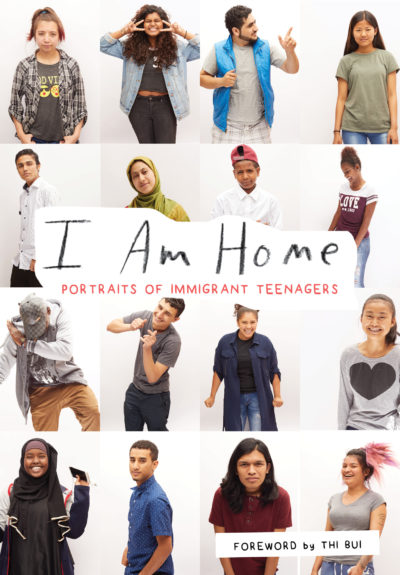 I Am Home
Portraits of Immigrant Teenagers
Meet the faces and voices behind the conversations around immigration. These portraits and stories of teenagers who are recent immigrants to the US from all over the world show the... Read More
Free U.S. shipping on orders above $30.
Meet the faces and voices behind the conversations around immigration. These portraits and stories of teenagers who are recent immigrants to the US from all over the world show the diversity, beauty, and potential of the people who now call the United States home.
Sixty full-page portraits of students at Oakland International High School, photographed by award-winning photographer Ericka McConnell, are accompanied by their own unique, diverse, and surprising stories of what makes them feel at home. Each of these young people is inspiring in their own right and together their stories will help us consider the issue of immigration with new mindfulness and compassion. All profits from the publication of this book will be donated to Oakland International High School.
Additional information
Additional information
| | |
| --- | --- |
| Weight | N/A |
| Dimensions | N/A |
| Format | Paperback, eBook |
| Pages | 120 |
| Trim Size | 7.125" x 10.25" |
| ISBN | 9781946764119 |
| ISBN | 9781946764126 |
"Timely, heartfelt, and inspiring."

Suzy B.
"This is an important book on so many levels. While politicians may throw around statistics no one wants to discuss the actual families who have given up everything to get here."

T. Fogelquist
"This book should be in every American's home- reminding us of our fortune at having diversity bless our country. It is poignant, and beautiful."

Michael Cecconi
Show more quotes
About Rachel Neumann
Rachel Neumann is a Bay Area-based writer whose work focuses on civil liberties, human rights, mindfulness, and the intersection of parenting and progressive politics. She is the author of Not Quite Nirvana (Parallax Press), a contributor to the anthology The Battle of Seattle (Soft Skull Press), and the co-author of... Read More
About Ericka McConnell
Ericka McConnell, a bicoastal Californian who has worked in New York for more than 20 years, has photographed retreat centers in India, Mexico, and Santa Barbara and Santa Fe in the US. Her images have graced the covers of Travel&Leisure, Conde Naste Traveler, Woman Magazine, Fitness, and Yoga Journal. Instagram... Read More
Related Products
Girls Rising

A Guide to Nurturing a Confident and Soulful Adolescent

This guide for adults working with adolescent girls will help them explore and develop their emotional, social, and spiritual selves. Young people are hungry and capable of engaging in meaningful...

View this book

Peace, Love, Action!

Everyday Acts of Goodness from A to Z

Peace, Love, Action! is an illustrated, illuminated A-Z of everyday actions that directly make a peaceful, fun, and vibrant world. With original artworks bringing each action to life, "make friends," "go...

View this book

The Idealist's Survival Kit

75 Simple Ways to Avoid Burnout

The Idealist's Survival Kit is a series of 75 short reflections on mindfulness in action designed to support humanitarian professionals and volunteers in addressing the specific themes and issues that they are likely...

View this book