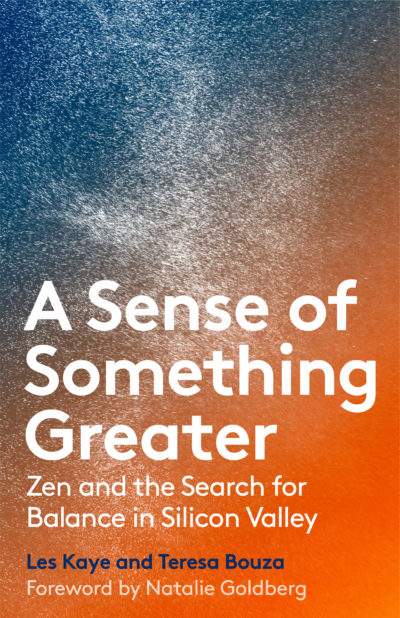 A Sense of Something Greater
Zen and the Search for Balance in Silicon Valley
A detailed investigation into the unlikely but growing connection between Zen and Silicon Valley, from a former employee of IBM and the abbot of Kannon Do Zen center.
Free U.S. shipping on orders above $30.
As the technology industry has continued to reach new heights, technology workers have begun to look for something more—a sense of fulfillment and purpose beyond their long days at their desks—and many have found it in Zen practice. Les Kaye brings the full weight of his experience as a long time employee of IBM and the abbot of Kannon Do Zen Center to bear in this balanced, nuanced investigation into the relationship between Silicon Valley—and the wealth and privilege that the region enjoys—and Zen practice, which first made its mark in California in the 1960s and '70s. Interviews with current technology company employees and Zen practitioners, conducted by Teresa Bouza, are interspersed throughout the book, along with accessible teachings and Zen analysis from Kaye.
Additional information
Additional information
| | |
| --- | --- |
| Weight | N/A |
| Dimensions | N/A |
| Format | Paperback, eBook |
| Pages | 224 |
| Trim Size | 5.5" x 8.5" |
| ISBN | 9781946764218 |
| ISBN | 9781946764225 |
"The stories gently illuminate difficulties that many of us commonly face in our work or family lives, and the sense of hope, healing and balance that Zen practice helped to provide."

Lini Wollenberg
"This book really addresses our time and place, especially for those of us in Silicon Valley, yet I imagine that decades from now it will still feel current and relevant to people."

Sharlene Gee
"Refreshing and touching stories--don't skip this one!... If you are looking for a "how to meditate book", this is not for you, but if you are looking to answer "why should I meditate?" start with this one!"

Leann
"[This book] fills a great need in Silicon Valley because nowhere else in the world do the denizens need spiritual practice more than here."

Merrill Snell
Show more quotes