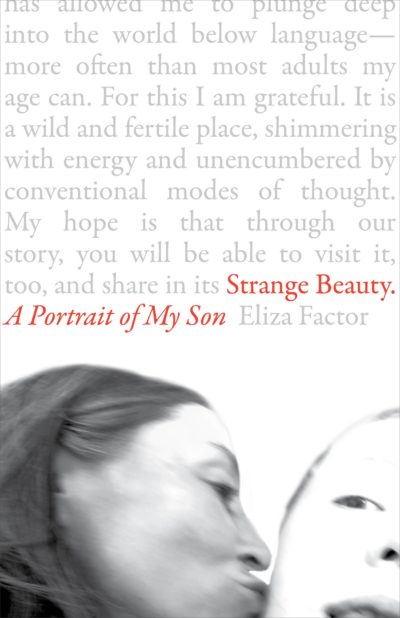 Strange Beauty
A Portrait of My Son
A unique and hopeful story of how one woman and her family were transformed by her child's multiple disabilities and inability to talk and how she, in turn, transformed a community.
Free U.S. shipping on orders above $30.
In this honest memoir that vibrates with unconditional love, the author details what life is like with Felix….The author's story demonstrates the need for more quality help for parents of children with disabilities, who will find solace in knowing that others have struggled and found joy in this type of parenting. A frank, compassionate, and highly detailed account of the roller-coaster ride of caring for a disabled, autistic child. — Kirkus
Strange Beauty is an intimate, no-holds barred memoir that shares one family's experiences with a child who is both autistic and physically disabled. It is a story of infectious laughter, blood on the floor, intense physical conflict, and of two little girls growing up in the shadow of their charming and fitful brother.
And it is the story of a mother and writer and the illuminating effect of imagining the world through the eyes of her beautiful, charismatic, and nonverbal son, Felix.
Felix and his sisters inspire Eliza to start Extreme Kids, a community center that connects families with children with disabilities through the arts and play, and transform how she saw herself and the world.
She writes of the joy this project brings her, as well as the disconnect of being lauded for helping others at the same time that she cannot help her own son.
As Felix grows bigger and stronger, his assaults against himself grow more destructive. When his bruised limbs and face prompt Child Services to investigate the Factors for abuse, Eliza realizes how dangerous her home has become.
Strange Beauty is a personal story, but it shines a light on the combustible conditions many families are living in at this moment. The United States offers parents whose children are prone to violence very little help.
That Eliza's story ends happily, with Felix thriving at Crotched Mountain School, is due more to luck than policy. There are few such schools and many such children.
When children are violent, we fail to account for the internal and external pressures that lead to violence—we think of violence as "bad" and we pin it on "bad people."
This is both cruel and counterproductive, for people with disabilities have much to teach us, if we will only listen.
In this honest and loving book, Eliza Factor describes what it is like to raise a disabled child, and in doing so reflects on the meanings of parenthood itself: on how we put into words a passionate attachment that cannot be exercised in words.​ — ​Andrew Solomon
Additional information
Additional information
| | |
| --- | --- |
| Weight | N/A |
| Dimensions | N/A |
| Format | Paperback, eBook |
| Pages | 272 |
| Trim Size | 5.5" x 8.5" |
| ISBN | 9781941529720 |
| ISBN | 9781941529737 |