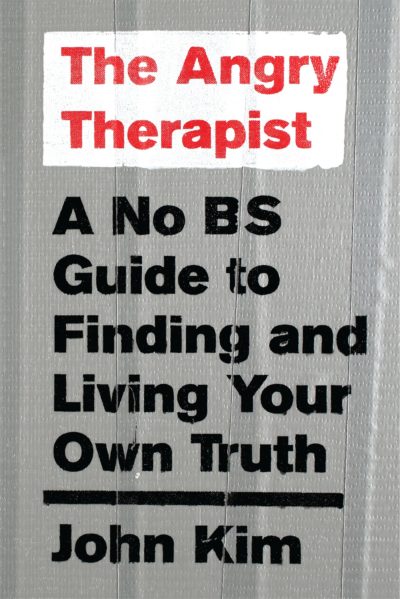 The Angry Therapist
A No BS Guide to Finding and Living Your Own Truth
Tackling relationships, career, and family issues, John Kim, LMFT, thinks of himself as a life-style designer, not a therapist. His radical new approach, that he sometimes calls "self-help in a... Read More
Free U.S. shipping on orders above $30.
Tackling relationships, career, and family issues, John Kim, LMFT, thinks of himself as a life-style designer, not a therapist. His radical new approach, that he sometimes calls "self-help in a shot glass" is easy, real, and to the point. He helps people make changes to their lives so that personal growth happens organically, just by living.
Let's face it, therapy is a luxury. Few of us have the time or money to devote to going to an office every week. With anecdotes illustrating principles in action (in relatable and sometimes irreverent fashion) and stand-alone practices and exercises, Kim gives readers the tools and directions to focus on what's right with them instead of what's wrong.
When John Kim was going through the end of a relationship, he began blogging as The Angry Therapist, documenting his personal journey post-divorce. Traditional therapists avoid transparency, but Kim preferred the language of "me too" as opposed to "you should." He blogged about his own shortcomings, revelations, views on relationships, and the world. He spoke a different therapeutic language — open, raw, and at times subversive — and people responded. The Angry Therapist blog, that inspired this book, has been featured in The Atlantic Monthly and on NPR.
Additional information
Additional information
| | |
| --- | --- |
| Weight | N/A |
| Dimensions | N/A |
| Format | Paperback, eBook |
| Pages | 168 |
| Trim Size | 5.5" x 8.25" |
| ISBN | 9781941529614 |
| ISBN | 9781941529621 |
About John Kim
John Kim blogs as The Angry Therapist. He practices complete authenticity and transparency with his many clients, frowned upon in the clinical world, and continues to look for new and unconventional ways to help people. He created the Catalyst Life Coaching Course, an online life coaching certification program, and recently... Read More
Related Products
Heal Your Living

The Joy of Mindfulness, Sustainability, Minimalism, and Wellness

Embark on a transformational journey with this easy-to-use minimalist, mindful guide to physical and emotional decluttering from the founder of Heal Your Living, the Youtube lifestyle channel with over 250,000...

View this book