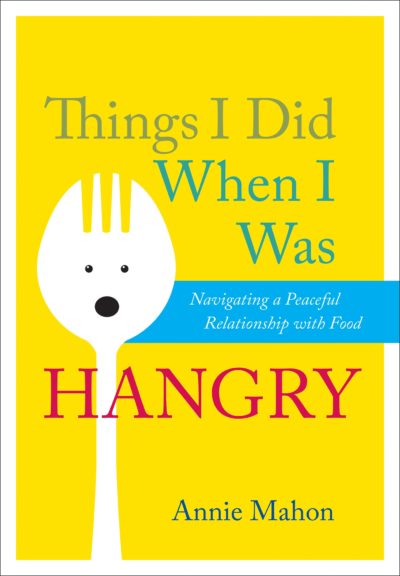 Things I Did When I Was Hangry
Navigating a Peaceful Relationship with Food
After years of struggling with eating disorders and anxiety around food and eating, Annie Mahon figured that having a path, any path, would be helpful. When she read The Miracle... Read More
Free U.S. shipping on orders above $30.
After years of struggling with eating disorders and anxiety around food and eating, Annie Mahon figured that having a path, any path, would be helpful. When she read The Miracle of Mindfulness by Thich Nhat Hanh, she found a path that not only changed her (and her family's) relationship with food, but also transformed nearly every aspect of her life.
In Things I Did When I Was Hangry, Annie shares her path to mindful cooking and eating. The tools Mahon offers fit together like a wheel, rather than sequential steps. Readers are invited to just jump in and take what works for them.
Each section has a short humorous story about Annie's own journey toward more conscious cooking and eating. She shares practices for developing mindfulness that will support more ease around food, and journal questions to help you look more deeply at the roots of your thinking about food, cooking, and eating. Simple, delicious, vegan recipes complement each section, demonstrating mindful alternatives for every meal and many eating challenges, including eating at work and school, eating at restaurants and on vacation, and mindfully feeding friends and entertaining.
Mindful eating has been shown to improve body acceptance, diminish negative self-talk and support weight loss. Mindful cooking is a mindfulness practice in itself, creating more ease in our day-to-day lives. Annie Mahon's recipes and suggestions are scaffolding anyone can use to build their own mindful kitchen and eating practices.
Additional information
Additional information
| | |
| --- | --- |
| Weight | N/A |
| Dimensions | N/A |
| Format | Paperback, eBook |
| Pages | 256 |
| Trim Size | 9.030" x 6.260" |
| ISBN | 9781937006990 |