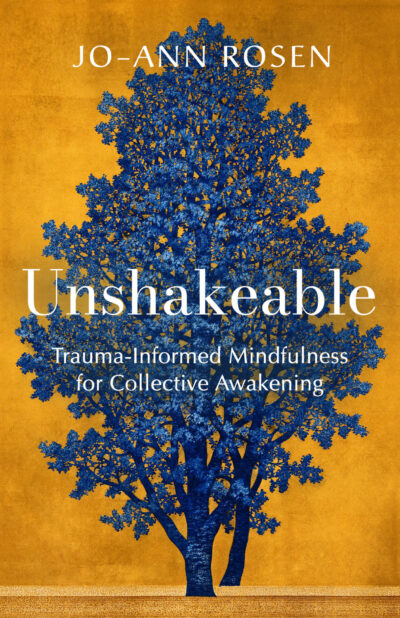 Unshakeable
Trauma-Informed Mindfulness and Collective Awakening
A holistic system for gaining and maintaining the stability of mind needed for personal and social transformation, even in the midst of trauma—with simple, body-based exercises grounded in neuroscience and... Read More
This product will be released on November 28, 2023.
Free U.S. shipping on orders above $30.
A holistic system for gaining and maintaining the stability of mind needed for personal and social transformation, even in the midst of trauma—with simple, body-based exercises grounded in neuroscience and mindfulness, inspired by Thich Nhat Hanh
With three decades working in marginalized communities in the US, Israel, and the West Bank, mindfulness teacher and psychotherapist Jo-ann Rosen offers a wealth of wisdom and gentle humor in supporting people to access their inner strength and stability—even amidst outer chaos and catastrophe.
Rosen draws on the example and practices of her teacher, the peace activist and Vietnamese Buddhist monk Thich Nhat Hanh, who founded Plum Village mindfulness practice centers worldwide as places of healing and restoration, to show how meditation can aid collective awakening.
Time and time again, even in places where trauma is commonplace, Rosen has seen that a regulated nervous system allows an individual to move from overwhelm and despair to stability and engagement. The Plum Village approach to well-being cultivates resilience while recognizing the unique social and ecological challenges of our times.
In Unshakeable, Rosen shares the methods by which we can broaden our resiliency, calm our nerves, and positively impact the collective consciousness. By following the practices in this book, we can find an unshakeable source of strength within, not only as individuals, but also as members of strong communities for positive change.
Additional information
Additional information
| | |
| --- | --- |
| Weight | N/A |
| Dimensions | N/A |
| Format | Paperback, eBook |
| Pages | 200 |
| ISBN | 9781952692574 |
| ISBN | 9781952692673 |