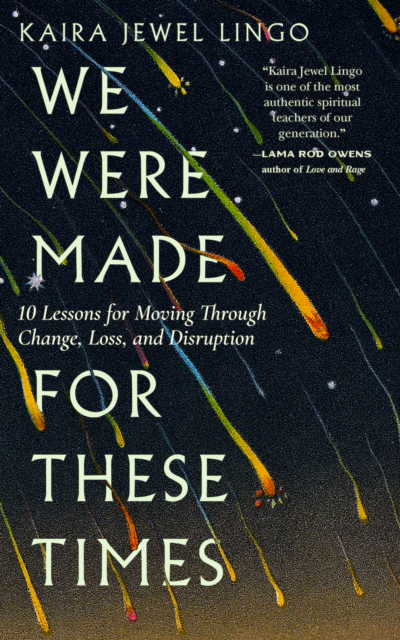 We Were Made for These Times
Ten Lessons for Moving Through Change, Loss, and Disruption
We all go through times when it feels like the ground is being pulled out from under us. What we relied on as steady and solid may change or even... Read More
Free U.S. shipping on orders above $30.
We all go through times when it feels like the ground is being pulled out from under us. What we relied on as steady and solid may change or even appear to vanish. Not only are loss and separation painful, but even positive changes can cause great stress. Yet life is full of change: birth, death, marriage, divorce; a new relationship; losing or starting a job; beginning a new phase in life or ending one. Change is stressful, even when it is much desired or anticipated—the unknown can feel scary and threatening. In We Were Made for These Times, experienced mindfulness teacher Kaira Jewel Lingo imparts accessible advice on navigating difficult times of transition, drawing on Buddhist teachings on impermanence to help you establish equanimity and resilience.
In this era of global disruption, threats to our individual, social, and planetary safety abound, and at times life can feel overwhelming. In ten concise chapters, you'll learn powerful ways to meet life's challenges with wisdom, resilience, and ease. Time-honored teachings will help you develop presence and compassion, supporting you to release the fear, doubt, and resistance that hold you back. Each chapter in We Were Made for These Times holds an essential teaching and meditation, unfolding a step-by-step process to nurture deeper freedom and stability in daily life.
Additional information
Additional information
| | |
| --- | --- |
| Weight | N/A |
| Dimensions | N/A |
| Pages | 144 |
| Format | Paperback, eBook |
| ISBN | 9781946764928 |
| ISBN | 9781952692208 |