Becca Klaver reflects on her experience as a teenager at a retreat with Thích Nhất Hạnh in Rhinebeck, New York in 1997.
I was raised ultra-Catholic, but by the time I got to high school, I'd started to explore other spiritual paths. It was the late 90s. My friends and I watched The Craft, burned things in the woods, and painted "so mote it be" on our closet walls. When I was fifteen, my family visited my aunt in Oak Park, and she showed me Peace Is Every Step by Thích Nhất Hạnh. I was intrigued. She bought me some of his books for Christmas and gave me her old meditation cushion. I read more than I sat, but the words opened me up to a gentleness that was my entry point.
A year or so later, my aunt and her friend were planning to attend a weeklong retreat led by Thích Nhất Hạnh at the Omega Institute in upstate New York. She invited me to come; I said yes. When we arrived, I was surprised to discover that it was a silent retreat. The inability to talk through such an unfamiliar and powerful experience threw me, even though I was shy and introverted. I'd been meditating only irregularly for about a year, and I struggled my way through the week. My inner voices were blasting at full volume. For all my efforts, I couldn't turn them off. Mostly, I was being really hard on myself; I was, after all, a sixteen-year-old girl.
At some point, I went into the woods and found a smooth grey stone. I took it back to my room and wrote PATIENCE on it with a Sharpie. I still have that stone, because I still need the reminder.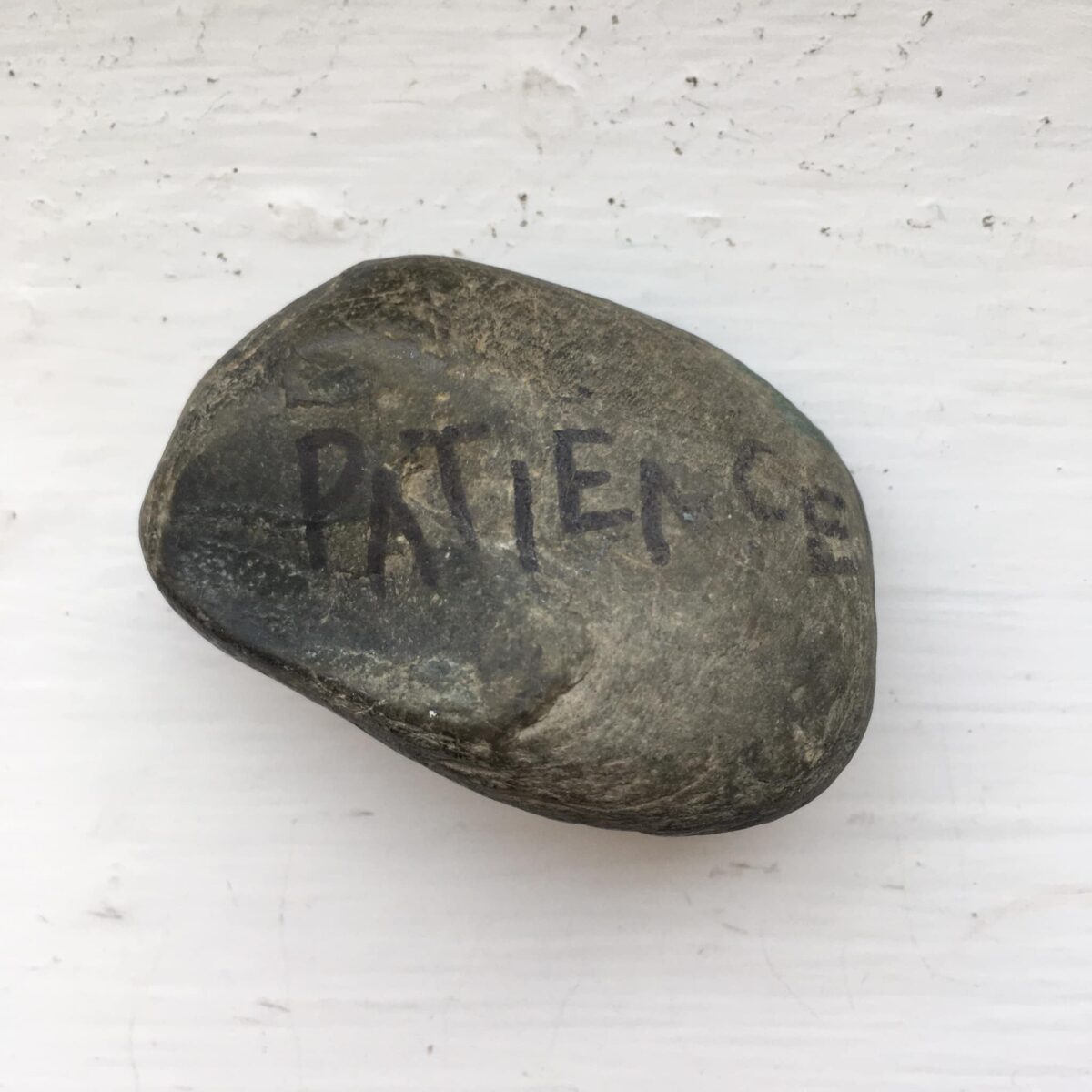 As the retreat went along, I started to feel left out during the daily talks by Thích Nhất Hạnh and the other retreat leaders. They addressed the adults and then spoke to the children, but no one mentioned those of us in between. I decided to leave a note about this in the public comment box. To my deep amazement, Thích Nhất Hạnh addressed my comment the very next day. During his evening talk, he called the handful of teenagers there to the front of the room and spoke directly to us.
At the end of the week, we were each given a Dharma name based on some responses we'd submitted. The name I was given (supposedly from Thích Nhất Hạnh, but probably from a team) was "Noble Ideal of the Heart." I understood right away that I'd been given this name because I was always striving for some sort of ideal, such as "be perfect at silent retreating on your first try." But I also felt comforted by the characterization of my striving as "noble": my yearning toward ideals wasn't completely sullied by the ways I was critical—mostly of myself—when they failed to be reached. On some level, it was honorable seeking.
Now I see how my Dharma name and my patience rock go hand in hand. If I'm going to keep seeking ideals, then I'd better have a lot of patience! This makes me laugh the way I remember Thích Nhất Hạnh laughing—knowing and kind.