Cooking Without Rushing

While cooking, allow enough time so you don't feel rushed. If we are aware that our bodies and those of our loved ones depend on the food we're preparing, this awareness will guide us to cook healthy food infused with our love and mindful attention.

–Thích Nhất Hạnh, How to Eat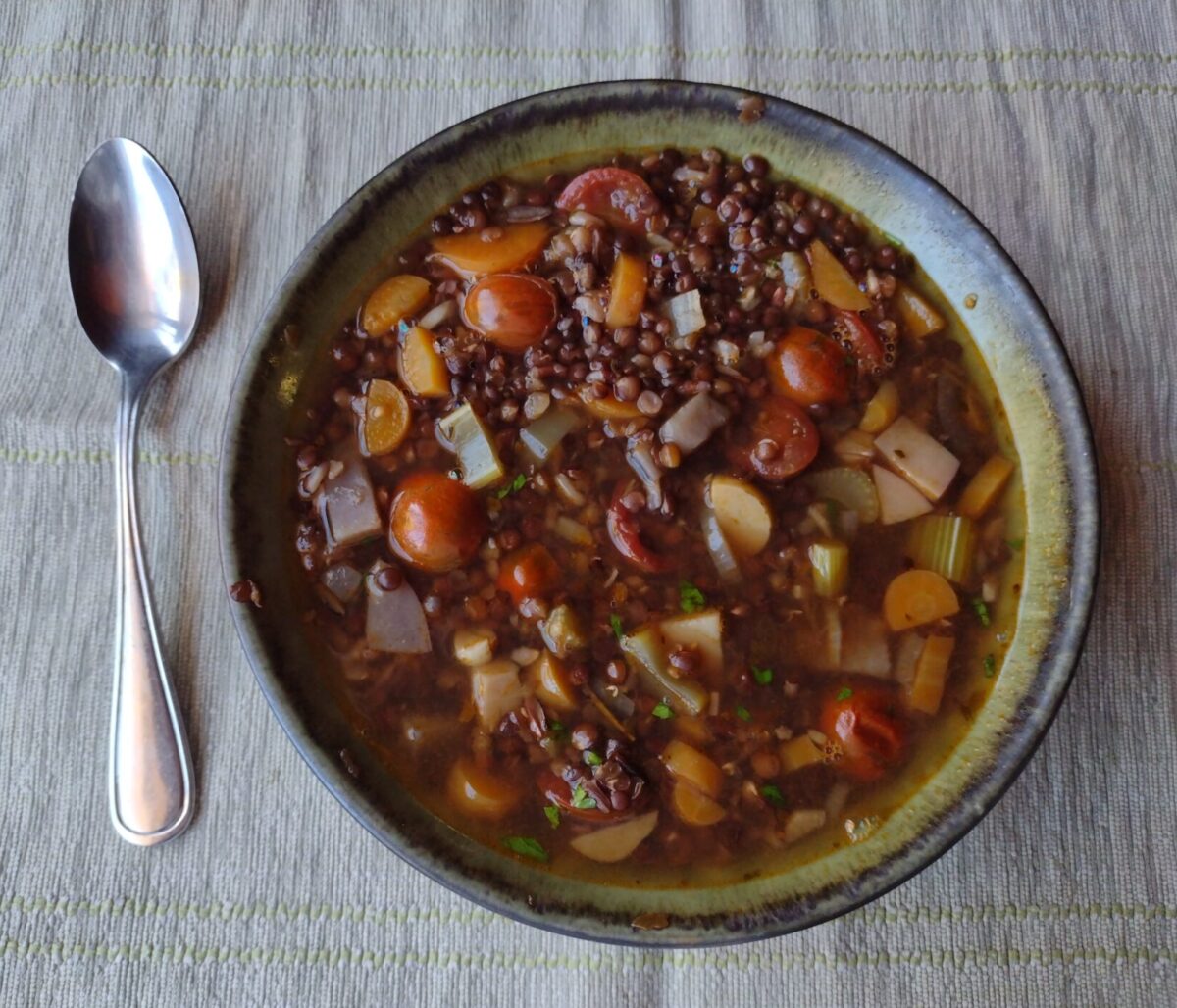 You are invited to use your intuition and also to use what you have, even if it's different from the ingredients listed! Chop the veggies to the size you prefer on your spoon. I like to make rice separately and then add a heap of it to my bowl, but you could also add a small pasta or enjoy the soup without either. Love is certainly an important part of why I'm so fond of this soup, whether I'm cooking it with a loved one or bringing my loving awareness to the task of cooking on my own.
1–2 tablespoons oil (olive or avocado)
1 cup carrots, chopped
1 cup celery, chopped
½ cup onion, chopped
4–8 cloves garlic, minced
½ pint cherry tomatoes, halved
1 cup red potatoes, chopped
1 ½ cups brown lentils, sorted and rinsed
1 tablespoon no salt seasoning blend
1 teaspoon dried oregano
1 teaspoon dried basil
black pepper to taste
red pepper flakes to taste
salt to taste
2 quarts water (and/or broth if you prefer)
2–3 cups cooked rice or pasta (optional)
In a large pot, sauté carrots, celery, and onion in oil for a couple minutes. Add garlic and tomatoes, with the option to add black pepper and salt as well, and sauté for a couple more minutes. Inhale and enjoy these amazing smells!
Add water/broth, maybe filling your pot halfway to start and then adding more if you'd like. Add all other ingredients (except rice or pasta), including a bit more oil. Bring to a boil and then simmer for at least twenty-five minutes. Check the potatoes and carrots to see if they are soft for a good idea of when it's done. Serve soup in a bowl and optionally add cooked rice or pasta. You can also squeeze some fresh lemon, or sprinkle some fresh cilantro on top.
Eat until you have a nice full "soup belly" and rest with a good book or issue of The Mindfulness Bell to digest.
Serves 4–6